Crowns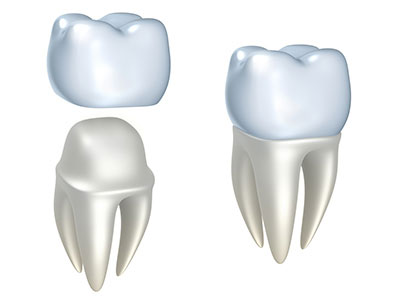 A dental crown is a cap-like restoration that assumes the natural size and shape of your tooth. We use dental crowns to cover and protect a broken or damaged part of a tooth. The crowns we offer here at Parkside Dental are a viable alternative for functional and aesthetic purposes. For instance, our dental crowns prevent bacteria and food debris from entering the hole in your tooth or having an infection. Thus, you can eat and drink normally. We design crowns that mimic the natural appearance of your tooth. Our dental crowns are designed to serve you for up to 20 years.


When Are Crowns Placed?

We begin by assessing your mouth and your affected tooth before recommending a crown. You may also opt to get crowns for aesthetic purposes; for example, in a case where your tooth was damaged after an accidental trauma. You may also get a crown if your tooth has become weak after a cavity or from decay. A dental crown will also cover and protect your damaged, natural tooth. We may also recommend a dental crown to align your bite. This is the best course of treatment if you suffer from malocclusion. You may also need a crown when recovering from an implant or after having root canal treatment.


Types of Crowns

Our dentist will consider your dental needs and personal preference to select the right crown. We will also consider other factors like tooth location, color, and function. Porcelain crowns match the natural appearance of your teeth. We recommend these when the damaged tooth lies further forward in the mouth. We rarely use stainless steel to make permanent crowns. We, however, may use them when we want temporary protection of the damaged tooth as we prepare the permanent crown. Gold crowns are our less popular crowns. Typically, we use them to replace molars in the back of your mouth. They are very durable and strong but quite expensive.

Likewise, metal crowns are strong and durable. They protect your teeth from decay and withstand chewing and biting. However, they are also expensive. We also offer porcelain and metal-fused-to-porcelain crowns. The latter combines the durability of metal and the mimicking aspect of porcelain. We usually recommend these crowns for front and back teeth. Our hybrid tooth crown will enhance both durability and aesthetics.


Same Day Crowns

Getting a same-day crown at Parkside Dental in Murphy has a number of benefits. First, it's much easier to fit into your schedule, because you only need to schedule one appointment, rather than an initial appointment and a follow-up for the placement of your crown. You also don't have to wear a temporary crown while you wait for your permanent crown to be made.


Crown Placement Process

The placement process is a multi-day procedure. You will need to visit us twice. On the first day, we will examine the tooth and the mouth to determine the best course of treatment. We might take an x-ray of the tooth in question. If our dentist finds it fit, he or she will recommend the appropriate type of crown. Our dentist will proceed to prepare your tooth. We will file it down and remove some surfaces of the outer layer. After filing down your tooth, we will make an impression. To avoid leaving your tooth bare and exposed, we will put in a temporary crown. It will take several weeks to make your permanent crown. You will return for a second visit when it is ready. Our dentist will then cement the crown to your tooth.


How Do Dental Crowns & Bridges Work Together?

If you're thinking about restoring your smile after losing one or more teeth in Murphy or Wylie, you may be interested in dental bridges. If you have questions about what bridges are and

how they work with dental crowns

, you've come to the right place. In this article from Parkside Dental, we'll explain everything that you need to know about dental bridges and crowns.


Dental Crowns vs Inlays and Onlays

Parkside Dental, we offer a range of restorative options to rebuild, strengthen, and elevate your oral health when teeth are undermined. Following an examination, we can discuss these options and create a treatment plan to suit you and your needs. A common restoration we recommend to restore teeth that have been compromised includes the addition of a dental crown, or partial crown known as a dental inlay or onlay.

To talk to us at Parkside Dental to learn more about our dental crowns. Contact us at 972-442-7550 to book your appointment.