Porcelain Crown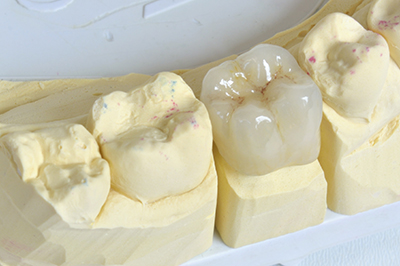 A porcelain crown provides an ultimate solution to people seeking to improve the function and aesthetics of badly damaged, cavitated, or decayed teeth. When a tooth suffers decay or is damaged from trauma, it may cause cosmetic imperfections and start feeling sensitive to hot and cold or pressure. It may also contribute to a considerable amount of pain, sometimes even severe pain. Dental restorations provided by us at Parkside Dental such as porcelain crowns can help strengthen and reinforce a damaged tooth and help improve its structural integrity without compromising the natural look.


What Are Porcelain Crowns?

Dental crowns can be fabricated of different materials from gold to zirconium, which is a relatively new material, as well as porcelain. A porcelain crown is a dental crown that has a cap-like structure and is fitted on the surface of a prepared tooth. It is made of ceramic material and serves to restore not only the function and structure, but also the aesthetics of stained, crooked, or decayed teeth. Porcelain crowns are known for their excellent strength and durability. In addition, they have the capability to match the color of neighboring teeth, ensuring a uniform and beautiful look for your smile.


Who Needs Porcelain Crowns?

Dentists suggest porcelain crowns because they are an adaptable solution. These prosthetic devices are used in many cases. If you have lost a tooth and because of the gap, the remaining teeth have moved from their positions, creating even more gaps between them or causing a bad bite, our dentist may install crowns to fix the bad bite and restore the shifted teeth. You may also get porcelain crowns when your tooth has had excessive decay that has damaged it severely. Again, when the teeth have been stained and present a bad aesthetic, you can get crowns to cover the blemishes.

A tooth that is fractured as a result of an accident and causes pain, can benefit from a crown installation. Another situation that may necessitate the installation of porcelain crowns is when the teeth have been resized by shaving down the enamel to allow the installation of a new bridge.


Benefits of Porcelain Crowns

With porcelain crowns, they are white in color so they are not easily visible. Additionally, porcelain crowns comprise a biocompatible material, meaning that you can find them a suitable choice if you suffer allergy reactions from other materials. Moreover, much of the natural tooth remains preserved during the dental crown placement.


Crown Installation Procedure

We start the process by performing a clinical evaluation where we do a detailed exam of the teeth to determine if porcelain crowns can help. Our team then prepares the teeth by filing the enamel down to reduce its size so that crowns can be attached. We make an impression that we use in the fabrication of the porcelain crowns. The last step involves the actual placement of the crowns. Our team cements the prostheses using adhesive cement.

Visit us at Parkside Dental to be evaluated for porcelain crowns. Call us at 972-442-7550 to request an appointment.