Dental Crowns vs Inlays and Onlays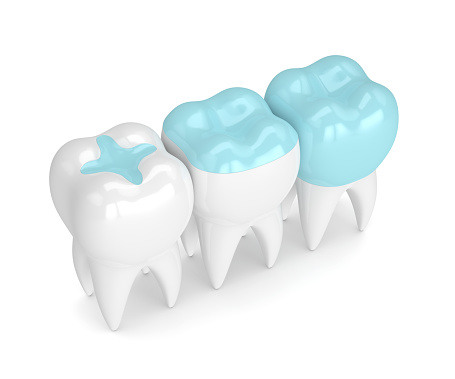 At Parkside Dental, we offer a range of restorative options to rebuild, strengthen, and elevate your oral health when teeth are undermined. Following an examination, we can discuss these options and create a treatment plan to suit you and your needs. A common restoration we recommend to restore teeth that have been compromised includes the addition of a dental crown, or partial crown known as a dental inlay or onlay.


Dental Crown

A dental crown is a fantastic option for restoring teeth that have been damaged or weakened. It is customized to fully surround and cover the natural tooth, serving as a shield or layer of protection for the tooth, while also restoring the size and shape of the tooth beneath. It is often referred to as a cap, because it is a cap for the natural tooth structure. Dental crowns are customized to meet your criteria, meaning it can be a replica of the natural tooth, or it can be a perfected tooth designed to fit the space and while still working well with neighboring teeth. Dental crowns can be made in a variety of materials, some of which are better for different areas of your mouth. We have materials that will match better in coloring and translucency to your other teeth for teeth that are more visible. We also have materials that work better with molars where the chewing pressure is higher. We will present these material options with their benefits specific to your needs.

The placement of a dental crown is completed over two office visits. Your first office visit may include the restoration work being done, such as root canal therapy. Following the removal of any decay or infection, we will then take a mold or impression of the tooth. We will discuss materials and options for your prosthetic. This information is then sent to a dental lab for the fabrication of the crown. We will contact you for a second appointment when we have received the crown. The crown is first fitted, and we can make any needed adjustments during the fitting. Once ready, we will then clean the area and cement your new crown in place.

The downside of a full dental crown is the amount of interference it causes to the natural tooth, and some patients prefer a more minimalistic intervention. A dental inlay, or onlay, provides the additional strength and protection to the damaged portion of the tooth in a minimalist intervention. This is often referred to as a holistic approach in dentistry or biological dentistry.


Dental Inlay or Onlay

A dental inlay or onlay uses the same materials of a dental crown, but is customized to fit only the damaged portion of the tooth. A dental inlay is customized to fit inside of a tooth, often on a larger cavity. A dental only is customized to fit on the outer wall of a tooth that has suffered decay or fracture. Both devices will provide a layer of protection to the cavity or fractured area of the tooth.

Protecting and strengthening your natural teeth is important to your oral health. Maintaining the original structure is best when possible. When a tooth is entirely missing, there are other restorative procedures we can discuss including a dental bridge, or embedding a dental implant that is then covered with a dental crown.


Schedule a Consultation Today!

If you'd like to learn more about the differences between dental crowns, inlays, and onlays and how they protect and restore your teeth, give Parkside Dental a call today at 972-442-7550.