The Dental Implant Timeline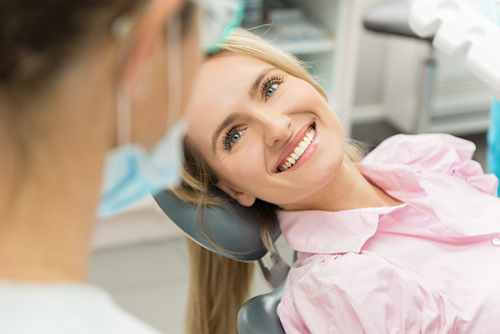 If you want to get dental implants in Murphy or Wylie, Dr. Jason Larsen is here to help. Not sure what you can expect during the implant placement process? Let's take a look at a step-by-step overview of the dental implant procedure now.


1. Get An Implant Consultation With Dr. Larsen

The first step of getting dental implants is to schedule a consultation with Dr. Jason Larsen. Dr. Larsen is an experienced implant dentist, and he can determine if you're a good candidate for implants. If implants are recommended for you, he will begin planning your treatment immediately.

(Optional) Undergo Pre-Treatment Surgery Before Your Implant Is Placed
Depending on your oral health, you might need to have a few pre-treatment surgeries to prepare for an implant. Bone grafting may be required to strengthen your jaw, bone ridge smoothing (alveoloplasty) may be needed to ensure a proper fit for your implant, or you may need to have one or more teeth extracted to prepare for an implant-supported bridge or a set of implant-supported dentures. Dr. Larsen will incorporate any necessary additional procedures into your treatment plan.


2. Have Your Dental Implant Placed

At your next appointment, Dr. Larsen will clean and numb your mouth, create a small opening in your jaw and gum tissue, and place your implant based on your treatment plan. Then, he will clean the area and stitch it shut. If you're getting multiple dental implants, this process will be repeated to place each one.


3. Heal & Recover While Your Implant Bonds With Your Bone

It only takes about 2 weeks for your implant site to feel relatively normal. However, it usually takes about 3-6 months for your implant to fully bond with your jaw bone. While your mouth heals, you will come into Parkside Dental for regular checkups with Dr. Larsen.


4. Begin Building Your Implant-Supported Restoration

Your restoration will be built by an outside dental lab. During your checkups, Dr. Larsen will take images and impressions of your teeth, and send them to a lab where an experienced technician will build an implant-supported restoration like a crown, bridge, or denture.


5. Have Your Abutment Placed In Preparation For Your Final Appointment

This is the last step before your implant is restored. Dr. Larsen will attach an abutment to your implant. This abutment is what connects your implant and implant-supported restoration to each other.


6. Get Your Implant-Supported Restoration & Restore Your Smile

Once your abutment has been placed and your mouth has fully healed from your dental implant placement, you will need to visit your Murphy dentist for a final appointment. Dr. Larsen will check your implant-supported restoration to make sure it fits properly, then attach it to your implant. Then, you'll be sent home with instructions on caring for your new smile.


Invest In Your Oral Health With Dental Implants For Missing Teeth

The process of getting a dental implant is complex, takes a longer time compared to other restorative treatments, and requires multiple visits to Parkside Dental. But implants last 30+ years, look and feel completely natural, and stimulate and support the health of your jaw bone.

For these reasons and many more, they're the best option for restoring missing teeth. So don't wait. Find out if you're a good candidate for implants now. Contact Parkside Dental online, or give us a call at 972-442-7550 to schedule your appointment with Dr. Larsen right away.