Pain Free Dental Extractions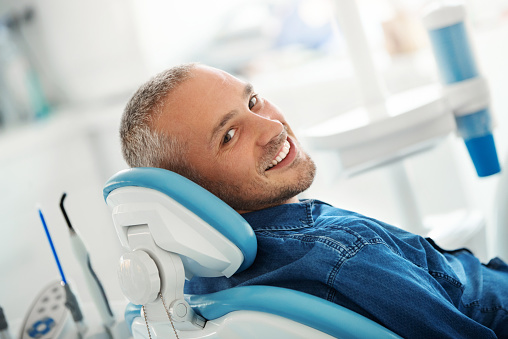 | | |
| --- | --- |
| • | Dr. Jason Larsen will always try to save your tooth at Parkside Dental, but tooth extraction is sometimes the best option to eliminate your pain and discomfort |
| • | With gentle, pain-free basic extractions, you can get back to your day-to-day routine and prevent further complications |
| • | We offer sedation dentistry at our Murphy office to ensure you remain completely safe and comfortable during the extraction process |
| • | Dr. Larsen also specializes in implant dentistry, so you can replace missing teeth permanently after extraction |
When Are Extractions Necessary?

Extractions may be required due to the eruption of wisdom teeth, due to severe tooth damage that can't be repaired, or to prepare for another dental treatment. There may be a few other reasons, but these are the most common.

Wisdom teeth extractions from our Murphy practice are very common. The wisdom teeth begin to emerge between the ages of 17-25, and many people do not have enough space in their mouths for these teeth, which leads to a number of dental health complications. If your wisdom teeth aren't erupting properly, they may need to be extracted.

Extractions are also sometimes required if your tooth has been severely damaged by oral trauma, extensive tooth decay, or gum disease. Removing the tooth and replacing it with an implant is sometimes the only option for restoring your smile.

In addition, extractions are sometimes used to prepare for dental treatments. If you get full-arch dentures, for example, all of your remaining teeth must be pulled before you can have your dentures fitted by our Murphy dentists.


What Can I Expect From The Extraction Process?

First, Dr. Larsen will clean and numb your mouth. Once your mouth is numb, he'll use a tool called a "dental elevator" to move the tooth around and loosen it in its socket. After the tooth has been loosened sufficiently, it will be pulled out using forceps.
‍
Once the tooth has been removed, the extraction site will be cleaned and disinfected to prevent infection, and sutured shut. It usually takes about 5 minutes to extract one tooth. Then, this process will be repeated if you need to have multiple teeth extracted.


Do Extractions Hurt?

Extractions at Parkside Dental do not hurt. Your mouth will be completely numb during the process, and you can also be sedated during your appointment to ensure your comfort as your tooth is extracted. You may experience some pain and discomfort while you recover from surgery, but you will not feel anything during the extraction process.


How Long Does It Take To Heal?

It will usually take between 1-2 weeks for your mouth to heal completely after an extraction. After your treatment in Murphy, Dr. Larsen will provide you with a set of instructions to follow during the recovery process. You'll need to eat a diet of mostly soft foods, avoid heavy exertion for a few days, and take a few other steps to make sure that your extraction site heals quickly and without any complications, so follow these instructions closely as you heal.


Should I Replace My Missing Tooth?

Yes. Unless you've had a wisdom tooth extracted, you will need to replace your missing tooth to restore your smile and your oral health. Your options will include partial dentures, dental bridges, and dental implants. After your extraction, Dr. Jason Larsen and the team at Parkside Dentalin Murphy can help you learn more about your options and which treatment may fit your needs, your preferences, and your budget.

There are a few reasons you should replace your missing teeth right away. First, losing one or more teeth (particularly front teeth) can make it harder to eat your favorite foods and speak clearly, and also may affect your self-esteem and make you feel self-conscious about your appearance.

Not only that, but your remaining teeth will start to shift toward the empty socket after you lose a tooth, which can ruin your bite and the alignment of your teeth. Filling the empty space with a new tooth prevents this and helps keep your mouth healthy.


When Can I Eat Again After An Extraction?

We usually recommend waiting a few hours after your extraction to start eating, but you could eat right away, if you wanted. In general, though, it's better to wait a little bit. This will ensure your numbing wears off, which prevents you from biting yourself. After a few hours, bleeding will also have slowed significantly.

For at least 24 hours, though, you need to eat only extremely soft foods and liquids. Think yogurt, milk, milkshakes, broth, and smoothies. This will help ensure your mouth heals properly. Don't skip meals after your treatment. Proper nutrition and hydration are essential for healing after your tooth extraction procedure.

After 24-48 hours, you can eat more foods like scrambled eggs, mashed potatoes, and other such firmer foods. Refer to the instructions provided to you by Dr. Larsen for the full dietary recommendations that you'll follow as you heal and recover.


What Can I Expect At My Appointment?

If you are getting pill-based oral conscious sedation, you may be asked to take a sedative pill the night before your appointment, and you will need someone to drive you to and from the office, as you will not be able to drive. You may need to take another pill about an hour before your appointment, depending on the medicine used for your treatment.

Once you arrive at our Murphy office, you'll check in with our team members and wait for your appointment with Dr. Larsen. Then, you'll go back to the operating area with Dr. Larsen, and your procedure will begin. If you're having just one tooth extracted, the entire process will take between 20-40 minutes. For multiple teeth, you'll spend an hour or more in the dentist's chair.
‍
After your procedure is done, Dr. Larsen will discuss some basic recovery steps with you, and provide you with written instructions on how to care for your mouth. Then, he will release you into the care of the person who brought you to the office, and you'll be sent home. You'll need to come back for a followup in about a week. For gentle extractions in Murphy or Wylie, contact us today.

If you are interested in knowing more about tooth extraction visit our team at Parkside Dental. To set up an appointment, give us a call at 972-442-7550.