Dental Veneers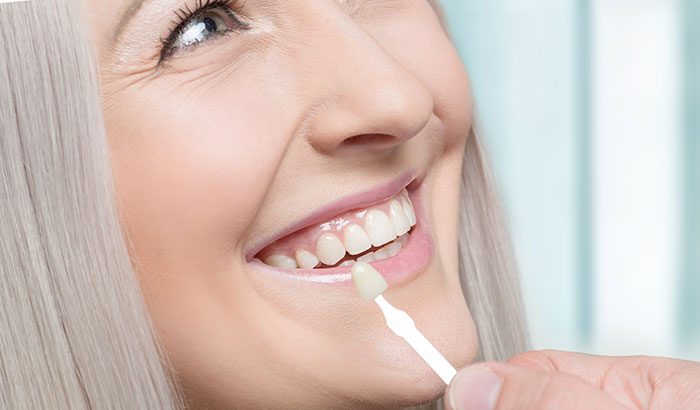 If your teeth are discolored, crooked, or chipped, dental veneers can provide a solution. At Parkside Dental, we use veneers to enhance the shape, shade, and size of a tooth. Allowing crooked or damaged teeth to remain uncorrected can increase the chance of infection or pain. A chipped tooth can expose the internal part of a tooth, leading to pain and sensitivity when drinking or eating.


What is a Dental Veneer?

Porcelain veneers consist of a thin, porcelain molding meant to cover the front surfaces of teeth. Our dentist bonds each porcelain veneer onto the front areas of a tooth to restore its look. Porcelain veneers have many applications. For instance, these prostheses can cover unsightly spaces between teeth and mask stains or discolorations. They can also help conceal misshapen and crooked teeth. If you are seeking a dramatic and nearly instantaneous transformation of your smile, a tooth veneer is a viable option.


Porcelain Veneers Procedure

We begin the treatment by preparing an impression of the teeth using our 3D system. The impression allows us to custom-make your porcelain veneer that we attach to the affected teeth. Once we have designed your veneer, we tint its color so that it matches the neighboring teeth or attains your aesthetic preference. We attach the piece to the tooth using durable cement. We may give you temporary veneers while the final veneers are being prepared. Once the permanent veneers are returned from the lab, we fit them on the front part of a tooth to rejuvenate its appearance.


Benefits of Porcelain Veneers

One benefit of dental veneers is that they do not become yellow or fade over time like natural teeth. You may be able to improve the appearance of your smile by whitening the teeth, however, you have to whiten them every few years because the teeth naturally get stained and become yellow and dark from beverages and foods we consume. But porcelain veneers stay as white and beautiful as the day you got them. Besides, our dentist can match the veneers to almost any shape, or contour of your teeth. Regardless of the shape or size of teeth, our team is able to make porcelain veneers to restore the teeth. When you receive veneers, you are able to avoid orthodontic treatments like braces. We can mask crooked teeth, which would otherwise require orthodontic treatment. The porcelain veneer procedure is not painful. Although you may encounter sensitivity when the tooth is prepared or filed down, we often use a local aesthetic or sometimes sedation dentistry to ensure a painless experience.


Aftercare Tips for Dental Veneers

Veneers are durable and highly resistant to stains and chipping. However, you have to maintain them carefully and ensure daily flossing as well as brushing. You also need to see us twice a year for checkups and inspection of the restorations, gum tissue, and teeth. You want to avoid habits that can damage the veneers such as chewing on hard objects.

If you want to get veneers bonded to your teeth to cover broken, discolored, gapped, chipped or crooked teeth, visit our veneer specialists at Parkside Dental. Contact us at 972-442-7550 to request an appointment.