Dental Exam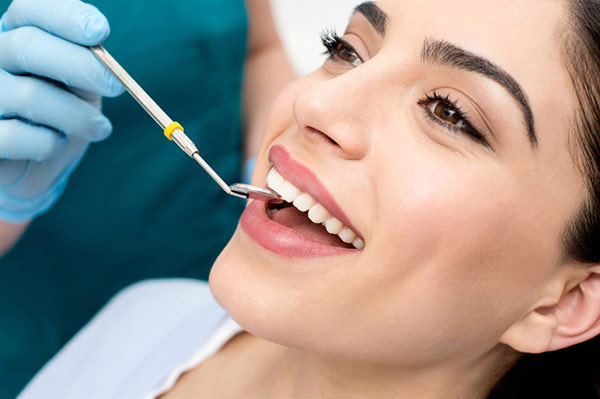 Inspecting the mouth when you check-in for dental exams is an important and integral part of preventive care. You should get dental inspections regularly, but a dentist is the person who can suggest the most precise intervals for the exams. Most dental issues are preventable and can be best treated when they are spotted early enough. At Parkside Dental, we offer various kinds of exams based on your dental needs.


Periodic Oral Evaluation

Patients who visit our office regularly undergo a periodic oral examination, and it is the most common dental procedure we offer. Routine oral exams ensure that you are on top of your dental health. You should receive routine exams twice a year. During the appointment, we also conduct a dental cleaning.

Our dentist assesses the state of the gums, tongue, teeth, cheeks, throat, and lips in what is called intra-oral examination. Thereafter, the dentist scales and polishes the teeth to remove plaque that may lead to gum disease. Often, we have x-rays taken in the process of the checkups to help detect if there are any underlying issues that need attention. During this time, you can talk to our dentist about whether you want to get dental implants or veneers and other restorations. The American Dental Association says that you need to have a periodic dental exam every six months.


Complete Oral Exam

If you have not seen our team for a long time, you most likely will need a comprehensive oral evaluation. It is the most thorough and helps gather all the information about the mouth and oral health. When you come to us for the first time, a complete oral exam is what we will perform so that we get baseline information about your oral health.

During the process, our dentist evaluates your teeth together with all structures inside the mouth and those outside the mouth. The dentist checks the soft tissues for gum disease and examines the teeth for cavities and malocclusions or bite problems. Besides, we screen you for oral cancer and perform a dental cleaning. We may also provide a lesson about oral hygiene if required. If you have bridges, crowns, fillings, or dentures, we inspect them too. We may take x-rays if needed, especially if we suspect decay forming in between the teeth or an abscess under the gumline. These dental issues cannot be seen with the naked eye.


Limited Oral Exam

A patient gets a limited dental exam when there is an acute oral problem presenting that cannot wait to be evaluated at a later date. This kind of exam is also known as an emergency exam. Our dentist inspects the problem area. The dentist gets a closer look at the tongue, teeth, gums, cheeks, lips, and throat. X-rays may be required to get details about issues that are not immediately visible. A limited exam may be scheduled if you need treatment like a root canal or if you are having pain that you are unable to pinpoint the cause.


How Long Does It Take to Complete a Dental Exam?

Performing a dental exam requires about 30 to 60 minutes but for kids, the process is much shorter. The length of your appointment may also be determined by your age, dental health, and the frequency or type of oral exam.

Come for a dental exam at Parkside Dental. Call 972-442-7550 to schedule your appointment.