Dental Bridge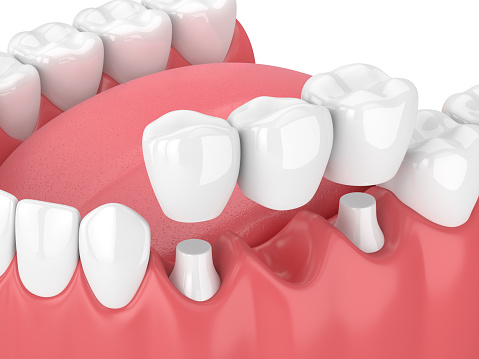 We offer dental bridges as an option to cover gaps left after losing teeth. We use these prosthetics to fill the spaces. To achieve this, your surrounding teeth must be healthy to support the bridges. The prosthetics are also known as pontics. The healthy teeth the pontics are attached to are known as abutments. At Parkside Dental, we make our bridges from porcelain and ceramic, to match your natural teeth.


Why Get Bridges?

You may need a bridge if your tooth is so decayed that it falls out or is removed by a dentist. Also, we recommend bridges when an accident damages a tooth beyond repair. Proactive treatment of missing teeth will eliminate many problems. First, missing teeth may leave you unhappy with the way you look. Replacing the teeth using bridges will restore your self-esteem. Besides, leaving a gap in your teeth can cause the remaining teeth to rotate or shift. Receiving dental bridges prevents remaining teeth from twisting or shifting.


Types of Bridges

Our dentists can use various types of dental bridges. The first alternative is the regular bridge. With traditional bridges, we use two crowns to anchor the pontic tooth. You can choose either a fixed or removable bridge.

A cantilever bridge is another choice we offer. It requires one crown to anchor the pontic tooth. The placement procedure is less intensive. It is a good option if you do not want to damage your healthy teeth.

We also offer Maryland bridges. These are less invasive compared to traditional and cantilever ones. During installation, our dentists will use metal or porcelain frameworks to anchor the Maryland dental bridge. On the downside, these types of bridges are less secure.

That is why we provide another more secure bridge, the implant-supported bridge. These require dental implants as anchors. It is more invasive and costs more, but is much more stable. Implant-supported bridges are your best bet if you miss multiple teeth in one gap.


Dental Bridge Procedure

The procedure involves multiple steps and it slightly varies depending on the type of bridge that is right for you. First, our dentist will determine if getting a dental bridge will solve your problem. Then, we will identify the best design and type of dental bridge. Our dentist will then inject local anesthetic near the affected gum area. It protects you from pain as we file your supporting teeth to make room for fitting the crown. We then take an impression or tooth model to help custom-make a bridge in our laboratory. Since making the permanent bridge takes time, we will create a temporary bridge to protect your mouth. When it is ready, we will remove the temporary bridge and fit the permanent one.


Aftercare

Your mouth may feel tender and sore after the placement of the bridge. The soreness will disperse within a few days. However, your gums may take a few weeks to heal completely after the procedure. To take care of the bridge, you should practice regular oral hygiene. Our dentist will also schedule regular checkups to clean the teeth. We will guide you on the foods you should avoid.

If you are interested in knowing more about dental bridges, visit our team at Parkside Dental. To set up an appointment, give us a call at 972-442-7550.