Dental Bonding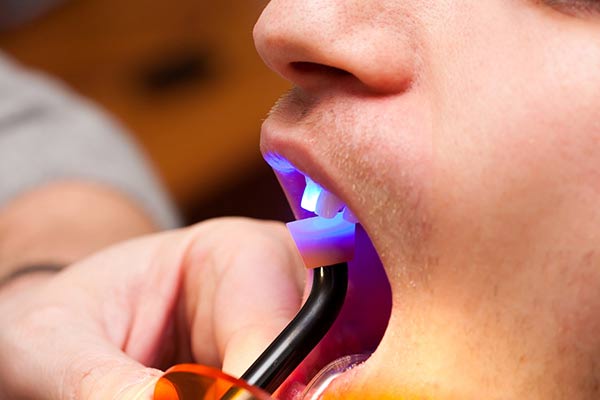 Tooth cavities, chips, discolorations, gaps between teeth, and root exposure are cosmetic dental problems that can be resolved in various ways. If you have minor dental problems such as an abnormally shaped tooth, a small crack, a gap in teeth, or stains, you can have a dental bonding procedure. This procedure is considered cost-effective and serves as both cosmetic and restorative. Our dental specialists at Parkside Dental use teeth bonding to perform minor repairs and cosmetic changes to teeth. We customize the bonding treatment to your specific needs.


How Dental Bonding Works

A tooth bonding procedure involves the application of a composite resin material to a tooth. We use a tooth-colored composite that we bond onto the stained or cracked tooth and then sculpt, harden, and polish it so that it attains the look of a real tooth. Bonding can provide solutions to a range of small issues such as correcting chipped and broken teeth, strengthening the tooth enamel, protecting exposed roots, filling gaps in the interdental areas, and addressing staining and discoloration of the teeth. It also works as an alternative to an amalgam filling if, for instance, you have had numerous fillings and they are beginning to fail, or if you are allergic to the metal substance used in making amalgam fillings.


Tooth Bonding Procedure

Preparing the tooth for the bonding process is the first step we do. We etch the tooth surface with an acid conditioner to make it a bit rough so that the bonding material is able to firmly bond with the tooth. We utilize composite resin material for the procedure. Our tooth bonding procedure is not painful at all, so do not worry that you will encounter pain.

After that, we put a composite material on the tooth. The material is putty-like and of the correct shade that matches the tooth. Next, we sculpt and shape the material in order to improve the size and shape of the tooth. After we have molded the bonding material, we cure it with a light to harden it. If needed, we further shape and trim the composite material after it has cured. Lastly, we polish and buff the teeth to give the bonding material an even finish just like that of the nearby teeth. Our bonding procedure can last about 30 to 60 minutes if we are working on a single tooth.


Benefits of Tooth Bonding

Dental bonding is able to correct various dental concerns. It is a viable alternative to procedures such as teeth veneers and crowns. Its versatility makes it an ideal choice for performing small cosmetic and restorative procedures. It corrects chipped and cracked teeth to enhance appearance and restore function. It is also ideal for replacing fillings that look unsightly and are not suitable for front teeth such as amalgam. The composite resin bonding can help protect teeth from recessed gums and protect tooth roots that have been exposed. Another benefit of tooth bonding is that it removes little enamel. While other procedures like crowns and veneers allow a layer of enamel to be scraped off, that is not the case with tooth bonding.

Make a trip to Parkside Dental to see our dental specialists and get more details about bonding or call us at 972-442-7550 to set up an appointment.