Clear Correct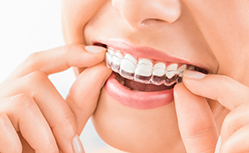 | | |
| --- | --- |
| • | ClearCorrect is less expensive but just as effective as Invisalign |
| • | Enjoy increased aesthetics and hygiene with removable transparent aligners |
| • | Eat a restriction-free diet and clean the surfaces of your teeth more easily |
| • | Thermoplastic aligners cushion your teeth and place gentle pressure rather than causing pain |
What IS Clear Correct?

ClearCorrect is a clear aligner orthodontic treatment that replaces the need for uncomfortable and unhygienic metal braces. Clear and removable aligners are made out of plastic which ensures more gentle pressure is placed on the teeth.

Patients are free to eat what they want and can thoroughly brush and floss their teeth without surfaces being blocked by metal brackets and wires. Patients only need to remember to remove their aligners before eating and cleaning their teeth.

The ClearCorrect process starts with a consultation with Dr. Jason Larsen. He will take high-definition photographs and digital scans of your smile to digitally recreate a 3D model of your teeth. Through our software, we can digitally plan your tooth movements.

All of this information is forwarded to an outside dental lab that will fabricate your aligners from impressions that are taken of your teeth. Then, once your aligners are ready, you'll return to the office to pick them up and begin your treatment.

You will receive enough aligners to change them every 2 to 3 weeks depending on your treatment plan. About every 6 weeks, you will return for a regular check-up with your Murphy dentist so we can ensure that you are staying on track with your treatment and we can answer any questions you have. You will need to wear your aligners for 22 hours per day for your teeth to properly shift.


Is Clear Correct Right For Me?

Do you want to straighten your teeth without the embarrassment and discomfort of metal brackets and wires? If so, then ClearCorrect is likely a great option for you! ClearCorrect can fix orthodontic problems such as crooked, overcrowded, and misaligned teeth. It can also be used to close gaps and correct misaligned bites.

Some complex cases like bite problems may require the use of ClearCorrect engagers and elastics for assistance. However, if you have severe malocclusions, any oral health problems, or cannot commit to wearing your aligners for 22 hours per day or regularly cleaning them, then you are not considered a good candidate for ClearCorrect.


How Long Does Clear Correct Take?

The length of ClearCorrect treatment entirely depends on the complexity and severity of your orthodontic case. Very minor spacing issues can be corrected in as little as 6 months, while moderate bite problems may take more than 1 year.

However, the average length of treatment is 12 to 18 months. We can give you an approximate estimate during your consultation. The length of your treatment is also dependent on your compliance with wearing your aligners for at least 22 hours per day.

If you are interested in knowing more about Clear Correct, visit our team at Parkside Dental. To set up an appointment, give us a call at 972-442-7550.